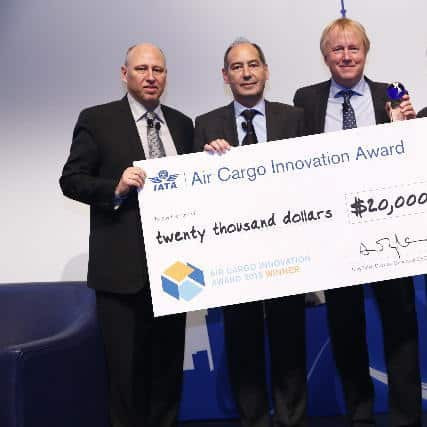 CANTRACK, developed by CHEP Aerospace Solutions IT director, Floris Kleijn (see above far right), has been awarded $20,000 to further develop the product, for winning the first International Air Transport Association (IATA) air cargo innovation award.
CANTrack won the public vote of delegates at the closing plenary of the IATA World Cargo Symposium in Shanghai (China) on 12 March. Kleijn says: "I am so humbled to achieve this award." IATA global head of cargo, Glyn Hughes, says: "The jury was impressed with the range and originality of proposals submitted."
CANTrack, as reported in Air Cargo Week (ACW) on 30 June 2014, is a solar energy harvesting global positioning system (GPS) and global system for mobile communications (GSM) tracking. It has sensors on it so customers can tell where it is anywhere in the world, and can tell if it has had a temperature shock. In June, Kleijn told ACW: "It combines the accuracy of GPS with the redundancy of GSM." In the photo are, left to right, Hughes and Des Vertannes, former IATA global cargo chief.