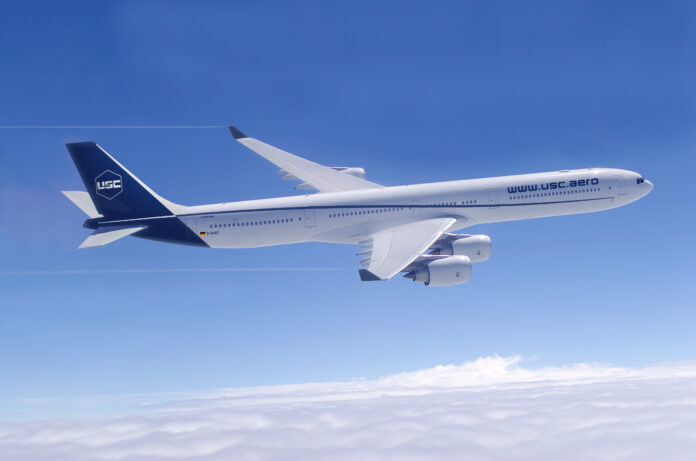 Avensis Aviation (Avensis), the innovative passenger-to-freighter (PTF) conversion solutions provider, has today announced USC GmbH (USC) as the launch customer for its NAVIS PTF main deck cargo door conversion to be installed in its Airbus A340-300 and A340-600 aircraft.
USC is a new airline based in Germany that will enter service early this summer with a fleet of A340-300s and A340-600s. The aircraft will be initially be used in passenger (ACMI) service, being modified at the earliest opportunity to Avensis' full size Cargo door.
READ: How the passenger-to-freighter aircraft conversion market took off
The NAVIS PTF conversion introduces an industry first "plug-type" main deck cargo door (MDCD) and features a separated crew cabin section, a 9G rigid cargo barrier, a full Class E cargo compartment and a main deck cargo loading system (CLS). With reduced conversion downtime, while enabling a more flexible, faster and cost-effective operational performance, NAVIS is the new PTF cargo door conversion benchmark.
Cristian Sutter, Chief Executive Officer of Avensis Aviation, said: "NAVIS is our flagship PTF conversion and it is aimed at lessors and established cargo airlines that demand a permanent, innovative and cost-effective PTF solution. The innovative "plug type" main deck cargo door is fully electrically operated,  lightweight, and safer due to its locking mechanism design".
"We are thrilled to announce USC as the launch customer for our NAVIS PTF conversion. The Airbus A340 provides a competitive aircraft freighter platform for the express market by offering payload, volume and performance advantages, particularly for ultra long haul routes such as Asia and other far flown cargo hubs."
READ: Avensis takes cargo freighters to the next level with Medius Elev
Demonstrating the scalaibility of Avensis' portfolio, the aircraft will first be converted to a CLASS E freighter using its MEDIUS PTF solution. By offering this interim option, Avensis enables USC to take advantage of operating cargo revenue flights whist the elements of the NAVIS conversion are produced. Avensis is the only PTF cargo solutions' provider to offer both a CLASS E PTF conversion products for the Airbus A340 aircraft.
Avensis Aviation's comprehensive portfolio of scalable conversion programmes has transformed the PTF market, revolutionising traditional industry conceptions with its award winning PTF conversion products such as MEDIUS (reversible Class E without door) and MEDIUS ELEV (Class E with dual-lifts) and NAVIS (Class E with main deck cargo door).