Avensis Aviation has announced the launch of its game-changing conversion solution MEDIUS ELEV. The first of its kind to feature built in forward and aft lifts on the main deck floor, this revolutionary conversion will allow for the loading of palletised and containerised cargo without the need for a cargo door, and will ultimately optimise TAT (turn-around-time) efficiency by significantly reducing loading and unloading times.
MEDIUS ELEV builds on the scalability and engineering commonality ethos integral to Avensis' portfolio of PTF (passenger to freighter) conversions and features a Class E cargo compartment that shares its design and engineering with the MEDIUS solution.
"MEDIUS ELEV allows for full freighter operations with no limitations. By adding a main deck cargo loading system and two main deck lifts, pallets and containers can be loaded in the main deck whilst still retaining the flexibility to reconfigure the aircraft back to a passenger configuration if needed," Cristian Sutter, CEO of Avensis, said.
The full reversibility and scalability of MEDIUS ELEV is a distinctive feature of the EASA- certified, Avensis MEDIUS Class E Freighter family of PTF conversions. A MEDIUS Class E Freighter can be scaled up to a MEDIUS ELEV or even to a NAVIS Conversion.
Read more: Avensis Aviation awarded Supplemental Type Certificate for "game-changing" medius conversion solution
Featuring a lift platform capable of accommodating a 96"x 125" (2.4m x 3.2m) container or pallet base, MEDIUS ELEV's lift system can safely load or unload containers or pallets weighing up to 2.2 tonnes. Main deck cargo capacity can range from a maximum capacity of 44 tonnes / 285m3 payload and volume for an A330-300 and up to 54 tonnes of payload and 360m3 of volume respectively for an A340-600 aircraft. This offers operators the flexibility to distribute different types of cargo between main deck and cargo hold, as combining the maximum payloads of both cargo holds will exceed the aircraft's maximum structural and take-off weights.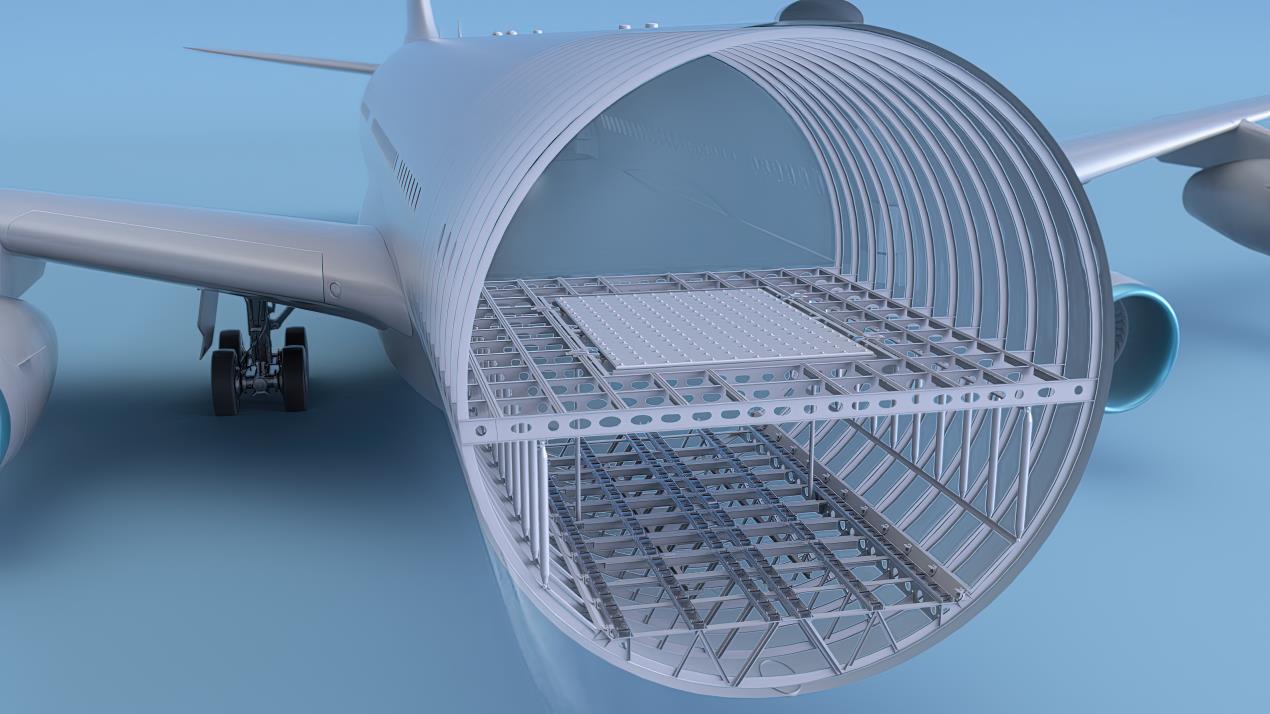 "We designed the lifts with maintainability in mind to maximise component efficiency and reliability," Sutter continued. "Low maintenance requirements and extended service intervals are important to our customers to ensure that down time is mitigated. Our built-in redundancy systems minimise any likelihood of in-service failure that could prevent the loading and unloading of cargo. Each lift comprises two independent operating systems as well as a backup manual override for the lift and corresponding floor locks."
MEDIUS ELEV is part of AVENSIS' family of five PTF conversion products and is the company's intermediate conversion between MEDIUS and NAVIS. Targeting aircraft operators and lessors that need to transport pallets and containers without committing to a main deck cargo door conversion, MEDIUS ELEV provides unparalleled asset management flexibility and has a typical conversion time of three months.
Avensis' full conversion portfolio comprises LEVIS XERO, MEDIUS, MEDIUS COMBI, MEDIUS ELEV and NAVIS, making it the only aviation company providing PTF Conversion solutions covering the full spectrum of freighter market requirements providing scalable PTF conversion solutions.