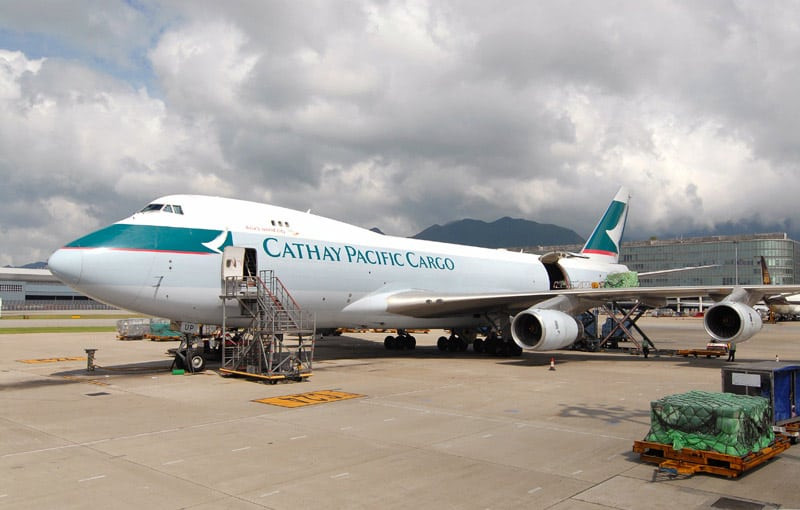 Cathay Pacific and Dragonair have seen cargo volumes increase by 0.8 per cent in August to 148,109 tonnes but the load factor has fallen to 60.6 per cent due to weak demand.
The Hong Kong based carriers have seen year-on-year (YOY) growth in every month of 2015, but it has slowed to less than one per cent. The year started strongly with YOY growth of 12.5 per cent in January to 147,275 tonnes followed by a 28.8 per cent YOY increase in February to 130,467 tonnes, which at the time was attributed to a surge in Chinese factory activity before Chinese New Year.
Growth slowed to 1.5 per cent in March, handling 157,688 tonnes. In April cargo was up by 5.2 per cent YOY 144,579 tonnes followed by a 6.2 per cent increase in May to 147,034 tonnes. June and July both saw YOY increases of 0.5 per cent, handling 141,136 tonnes and 147,545 tonnes, respectively, before the 0.8 per cent rise in August. Between January and August cargo volumes have increased by six per cent to 1.1 million tonnes.
Cathay Pacific general manager for cargo sales and marketing, Mark Sutch says: "August is traditionally one of the quieter months for our air cargo business and that proved to be the case last month. We operated more capacity than in August 2014 but the tonnage carried improved only marginally while the load factor fell."
The year-to-date load factor has remained the same at 63.3 per cent despite falling by 1.9 percentage points in August. The load factor has fallen in every month of 2015 from April. In January it had increased by 2.9 percentage points to 63.4 percent, in February by 6.2 percentage points to 65.5 per cent followed by a YOY increase in March of 1.7 percentage points to 68.4 per cent.
April saw a 0.5 percentage point drop to 62.6 per cent, followed by a drop of 0.9 percentage points to 62.1 per cent in May. June saw a fall of 2.2 percentage points to 62.7 per cent followed by a decline of 2.9 percentage points to 61.8 per cent in July.
Sutch says he is expecting things to improve by the end of the year. He says: "Looking ahead we expect to see a traditional winter peak. In those markets where we face stronger competition and capacity growth, we have the ability to leverage strong network feed over our hub to maintain good loads on our long-haul trunk routes at a sustained yield."