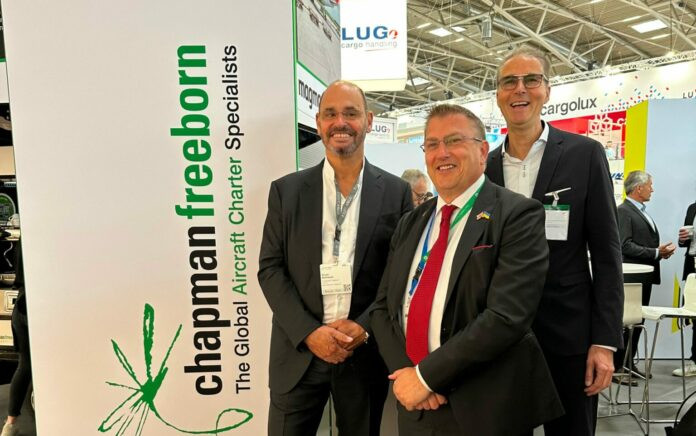 Chapman Freeborn celebrated 50 years of service across the globe and outlined its vision for the future during the air cargo Europe show in Munich, Germany.
Founded in 1973, the air charter specialist has developed a blueprint to improve its products by investing in people and strengthening its regional offerings.
"The air charter brokering business has, over the past decades, been predominantly people and relationship driven," Russi Batliwala, Chairman of the Board, Chapman Freeborn, said.
"I believe that this has changed, and in today's business environment, relationships alone are no longer enough to be successful.
"Customers rightly expect more added value and services beyond traditional third-party air charter brokering services.
READ: Chapman Freeborn appoints Russell Cook as Industry Vertical Director – Automotive
"We have successfully diversified, and continue to diversify, our business, growing our portfolio of niche services and increasing our value to our customers.
"Relationships will always play a major role in our business, and we continue to develop them with our many new services."
Most recently, the charter broker has invested in expanding its product portfolio, including its On Board Courier (OBC) product, and growing its Aircraft, Crew, Maintenance, and Insurance (ACMI) leasing team.
Chapman Freeborn attributes its 50 years of success to its rapid diversification and agile product development in response to changing consumer demand.
READ: Magma Aviation inaugurates its first regular flights into China
"We are investing significantly in the expansion of our international office network and teams to strengthen our truly global business," Eric Erbacher, Chief Executive Officer, Chapman Freeborn, said.
"Our group continues to push its efforts to considerably increase our own controlled capacity in our key segments of cargo and ACMI leasing over the coming years.
"As well as this, we are intensifying our network of selected partnerships and collaboration across the logistics chain to drive added value for our customers."
While Chapman Freeborn celebrates its traditional and historical place in the industry, it is committed to recruiting the next generation of aviation experts and driving innovation in an ever-evolving industry.
The charter broker is actively pursuing an ambitious recruitment campaign in 2023, already recruiting more than 80 members of staff this year, with the aim of surpassing the workforce growth achieved in 2022.