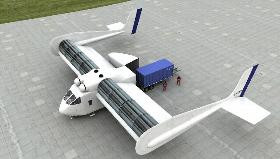 A new type of freighter is to be the subject of an economic feasibility study by the German Aerospace Center (DLR) after a series of wind tunnel tests that start on 7 July.
Under a 782,989 euro ($1 million) two-year European Union project, the economic study will examine how the freighter would be operated, its maintenance needs and other costs. Able to carry eight tonnes, its direct operating cost will be compared to conventional short take-off and landing aircraft, helicopters and tilt-rotor aircraft. The US Marine Corps' Bell Boeing V-22 Osprey is the only operational tilt-rotor aircraft.
The wind tunnel tests will take place at the von Karman Institute for Fluid Dynamics in Belgium. In its 3.5 metre diameter wind tunnel the freighter's wing design will be optimised for lift efficiency, flight speed and cruise economy. Its rotor's blades will also be analysed. Computational fluid dynamics are also being used to examine the wing and rotor.
The freighter design is unique in that it has an open rotor that spans the wing's length (see picture – credit Adrian Mann / FanWing). Its inventor, Patrick Peebles, calls his design FanWing. His company, of the same name, is one of the project's four partners. "We are looking forward to a follow-on project. It's a bit premature to think about that, but the DLR is looking at that," says Peebles.
The other three partners are, the DLR, the von Karman Institute and the University of Saarland. The project's EU website refers to it as SOAR, an acronym constructed from diStributed Open-rotor AiRcraft, and describes FanWing as, "open-fan wing technology".
It explains that this technology, "is a new concept that distributes the thrust and powered-lift over the entire span of the wing resulting in a model-proven lift efficiency three times that of helicopters." The website also states that FanWing could carry out a "safe autorotation landing" and has "truly quiet" ultra short take-off and landing capability.
The SOAR work began in October last year and ends in September 2015. The EU contributed 591,214 euros to SOAR and the project partners' the remaining 191,775 euros.