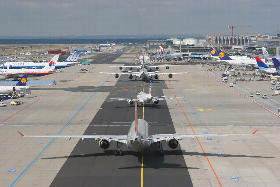 European freight traffic has increased by 3.3 per cent year-on-year in August, with the growth coming from within the European Union (EU), while non-EU airports have been flat due to sharp decreases in Russia, according to Airports Council International (ACI) Europe's August Airport Traffic Report.
Year-on-year traffic growth was up in August from July, when it was three per cent. January saw the highest year-on-year growth of nine per cent while April saw the lowest at three per cent. Year-to-date (YTD) freight traffic has grown by 4.2 per cent compared to 2013, four per cent on 2012 and 12.2 per cent on 2011.
ACI Europe director general, Olivier Jankovec, says: "The increase in freight traffic is entirely due to EU airports, as it was completely flat at non-EU airports – mainly due to a sharp decrease at Russian airports as a result of EU sanctions imposed on Russia." Despite the positive figures, Jankovec has fears that it may not be able to last. "With the Eurozone stalled in its economic recovery and no end in sight for the current geopolitical tensions, there are serious doubts as to the ability of European air traffic to keep defying economic gravity in the coming months."
Airports in Russia all saw declines as a result of EU sanctions, according to ACI. In August Moscow Domodedovo Airport saw a decline of 6.1 per cent, handling 14,227 tonnes, Moscow Sheremetyevo Airport was down 22.2 per cent to 12,707 tonnes. Pulkovo Airport and Tolmachevo Airport also saw year-on-year declines of 9.3 per cent to 2,197 tonnes and 2.6 per cent to 2,337 tonnes, respectively. YTD Domodedovo, Sheremetyevo, Pulkovo, Tolmachevo saw declines five per cent, 4.3 per cent, 4.4 per cent and 7.2 per cent, respectively.
The five largest airports for cargo volumes were Frankfurt International Airport, Paris Charles de Gaulle Airport, Amsterdam Airport Schiphol, Heathrow Airport and Cologne-Bonn Airport, handling 170,979 tonnes, 150,303 tonnes, 136,638 tonnes, 122,380 tonnes and 56,045 tonnes in August, respectively.