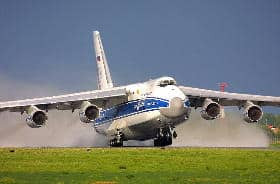 Two mobile meteorological support vehicles arrived back in Yekaterinburg (Russia) from Delhi onboard a Volga-Dnepr Airlines' Antonov An-124-100 after going for a test drive.
The mobile stations, each weighing about 12 tonnes and accompanied by a four tonne trailer, drove into the An-124's cargo hold under their own power. Each shipment measured 8.5 metres in length and 3.6 metres in height and was loaded along with the five metre long trailer. The consignor and consignee's representatives monitored the loading and unloading of the cargo at Indira Gandhi International Airport and Koltsovo Airport.
The flight was operated on behalf of the government of India, which ordered the meteorological vehicles from the Russian manufacturer, Uraltransmash. The purpose of the transportation was to enable specialists in India to familiarise themselves with the equipment and to conduct tests using it.
Representatives of the customer thanked Volga-Dnepr team for the successful completion of the charter and particularly noted the role of sales and customer service departments. They also expressed their hope for the future cooperation with Volga-Dnepr Airlines.