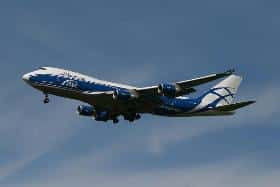 Russia is facing an additional barrier to flying freight into the European Union (EU) as the European Commission (EC) is to keep the country off its "green list" of nations that are excepted from the Air Cargo or Mail Carrier operating into the Union from a Third Country Airport, or ACC3, rules.
To obtain ACC3 status, an air carrier must deliver a declaration of commitments, which covers every non-EU airport from which cargo or mail is flown to the EU. The declaration sets out how an airline will ensure that ACC3 standards for security are met prior to the loading of an aircraft bound for the EU. Airlines have to use independent validators to confirm that the security standards have been met.
The EC tells Air Cargo Week: "We're not quite at July 1 yet, however, there is an ongoing process whereby risk assessments are carried out on various countries, based on information available from industry and EU Member States.
"Due to a range of factors, Russia will not be put on the so-called green list before the July 1 deadline. We had technical-level discussions with Russia on ACC3 issues and we will continue these discussions with them and analyse it in the same way as any other country."
The Russian government's Ministry for Transport and the Russian airlines, Volga-Dnepr and Aeroflot, were not available for comment.
Airlines can obtain the Green list from an EU member state. The ACC3 regulations were adopted in August 2011 after the October 2010 incident when a package allegedly containing a printer ink cartridge was found to be an explosive device. This led the EC to review its aviation security legislation. The deadline for industry to implement security procedures to meet ACC3 requirements is 1 July.