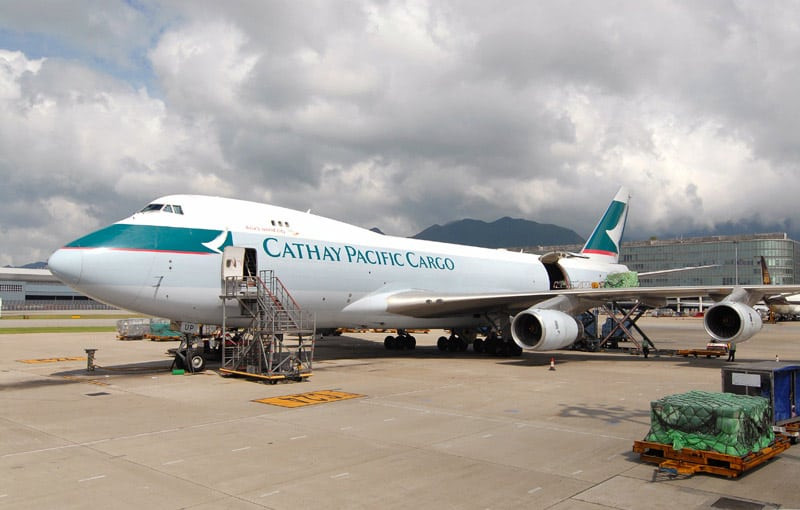 The Cathay Pacific Group's cargo revenue plunged 17.2 per cent in the first half of 2016 due to falling yields – compared to the same period last year reaching $9,415 million Hong Kong (HK) dollars ($1.2 billion).
Cargo capacity of Cathay Pacific and Dragonair increased by 0.6 per cent while the load factor decreased by 1.9 percentage points, to 62.2 per cent. Tonnage carried decreased by 0.2 per cent. The Group says overall market was weak during the period, although tonnage stabilised in the second quarter.
The Group says yield fell by 17.6 per cent to $1.59 HK dollars reflecting strong competition, overcapacity and the suspension (from April) of fuel surcharges. Demand on European routes continued to be weak and demand on transpacific routes weakened, while India was one of the few routes where it strengthened.
The Group says it managed freighter capacity in line with demand and carried a higher percentage of cargo in the bellies of its passenger aircraft.
Overall profit for the Group in the first half of the year was down 82.1 per cent to $353 million HK dollars, which compares to a profit of $1,972 million HK dollars for the same period in 2015. Revenue was $45,683 million HK dollars, 9.3 per cent below the $50,388 million HK dollars in the same period last year.
Cathay says the operating environment in the first half of 2016 was affected by economic fragility and intense competition and there was sustained pressure on revenues, reflecting suspension of fuel surcharges, weak currencies in some markets, weak premium class demand, particularly on long-haul routes.
As for its fleet, Cathay Pacific is scheduled to take delivery of further nine Airbus A350 aircraft during the remainder of 2016, while in the first half of the year it says one parked Boeing 747-400 Freighter aircraft was delivered to Boeing in July and another aircraft of this type in August.
The remaining two aircraft of this type will be delivered to Boeing in August and September. Cathay Pacific took delivery of its final 747-8F freighter in August.
Cathay Pacific chairman, John Slosar says: "We expect the operating environment in the second half of the year to continue to be impacted by the same adverse factors as in the first half. The overall business outlook therefore remains challenging. We expect passenger yield to remain under pressure. Overcapacity and economic fragility will dampen cargo demand.
"Fuel prices have increased this year, but are still lower than in previous periods. The benefits from lower fuel prices will continue to be partially offset by losses on our fuel hedging contracts. The fuel surcharge remains suspended. In this difficult environment, we will manage capacity and strive to make further improvements in operational efficiency. We will also continue to be vigilant on costs.
"The strategic objective of the Cathay Pacific Group is to provide sustainable growth in shareholder value over the long term. To that end we will continue to build a modern and fuel-efficient fleet and to strengthen our network and will strive to provide a high standard of customer service.
"We will continue to develop our strategic relationship with Air China. As we celebrate our 70th anniversary, our commitment to the Hong Kong and its people remains unwavering. We will continue to make long-term strategic investments to develop and strengthen Hong Kong's position as Asia's premier aviation hub."