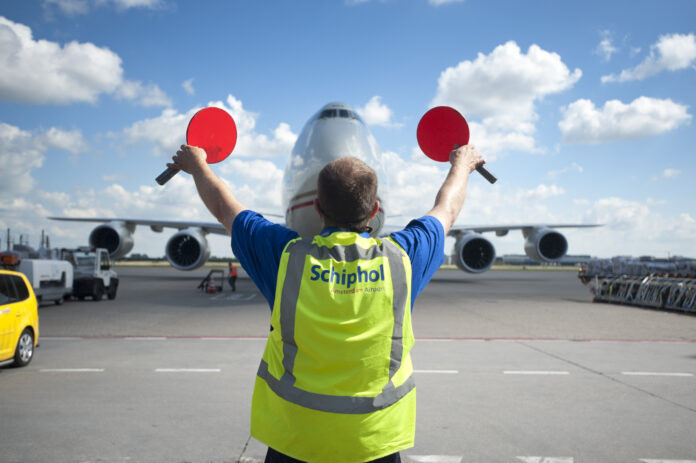 Schiphol Airport is under new management, as the Dutch hub looks to put its challenges behind it and prepare for whatever the future might hold. 
Ruud Sondag was brought in as Chief Executive of Royal Schiphol Group in November 2022, replacing outgoing CEO Dick Benschop, and Joost van Doesburg returned to the world of airfreight as Schiphol's new Head of Cargo. 
The duo look to steer Schiphol out of a "bad chapter" in its history and embrace the possibility the airport has to be a key passenger and cargo hub in Europe. 
"It's a challenging time. It's also an interesting time," van Doesburg said. "We all know the challenges. We all know what is going on. But I also think that it is really important to say that Schiphol airport, whatever happens, will remain an important cargo hub." 
Protecting slots 
The Dutch government is currently in the process of trying to cut Schiphol's capacity from 500,000 to 460,000 flight movements per year, something that airlines have blasted as unnecessary and financially damaging to their operations and the wider economy. 
In a bit to halt this move, Corendon, Delta, easyJet, KLM, Martinair and TUI have joined forces to take the government to court to keep the number of slots available at half a million. 
"We talk about the potential decrease in slots and that's a challenge. Nobody can predict what will go on in the coming years or months," van Doesburg said, citing the legal action. 
However, Schiphol is braced for any eventuality, ensuring that it takes steps to protect freighter operations from being scrapped in the event of any cuts to the overall number of slots. 
"It does not really matter what the outcome will be because we will remain focused on air cargo. It will be very key," van Doesburg added. "Schiphol has proposed measures to secure freighter slots. They cannot be swapped into passenger slots." 
The Schiphol air cargo community backed this move in 2022, citing the important role cargo flights play in delivering high-value and time-sensitive goods to customers in the Netherlands and across Europe. 
"It's very vital for us as an airport because everybody 
sees that they provided added value for the airport and the Netherlands. 25% of added value is from freight." 
"We are a trade nation. 50% of all the American and Asian distribution centres are in our country, so we, as an airport, want to defend the number of slots for freighters." 
READ: Joost Van Doesburg to become Head of Cargo Royal Schiphol Group
Digital future 
Across the supply chain, it is crucial to ensure that systems are as efficient as possible to ensure the best experience for customers and maximise profitability. At Schiphol, this has seen Cargonaut work with the hub for more than 30 years to improve processes on the cargo side of operations. 
Now, Schiphol is overhauling its Port Community System (PCS) platform to ensure that it embraces the opportunity technological innovation has to keep cargo flowing smoothly through the hub. 
PCS enables every member of the air cargo chain – from forwarders to handlers to truckers to airlines – to accelerate and streamline their movements in, at and through Schiphol, so it's key to ensure this is truly a modern design. 
"We are heavily investing as an airport in our new PCS to make it really state of the art because the Netherlands has one big advantage – We have a great cargo community working together," van Doesburg explained. "Everybody in the Dutch air cargo community is very willing to work with each together towards a new PCS." 
Multimodal network 
Schiphol finds itself in a perfect position to offer a gateway into Europe with sea, road, rail and air networks all readily available for goods to be distributed across the continent and beyond. 
"I've always had difficulty when I'm at air cargo events," van Doesburg said. "It's about air cargo but it's not really about air cargo," he added, citing all of the different logistics services involved in the supply chain. 
"It's a lot of trucking. It's a lot of stopping. It's a lot of waiting. We want to ensure that we have a seamless road feeder service towards our airport. We have a slot booking system for all the handlers," van Doesburg explained. 
That's where Schiphol's investment in a state-of-the- art cargo hub is critical to its roadmap, as it looks to ensure that all the facilities are combined, creating a cargo city for all members of the freight community. 
"The leadership of the airport are really clear that they want to protect cargo," van Doesburg said, as Schiphol looks to become an efficient multimodal hub for European cargo. 
READ: Red Schiphol: Reducing flights at Schiphol Airport could deliver €13.6 billion blow to Dutch trade and tourism
Effective strategy 
With changes potentially on the horizon for Schiphol and the decision on slots out of their hands, van Doesburg understands that the airport has to take a different approach when preparing its long-term strategy. 
"We need to adapt to this new situation," van Doesburg admitted. 
"We are a very dedicated, successful airport with a very dense cargo and passenger network." 
Schiphol sees itself as able to take advantage of providing top tier services to airlines, regardless of whether they are dedicated freighters or passenger airlines with bellyhold capacity, focusing on quality over quantity. 
"Every plane is also a cargo plane. We will remain a dense network and we will still grow but not growing in volumes," he explained. 
"We need to change our strategy completely and grow in quality. That's why we are setting up a new PCS. That is why we are investing heavily in the most innovative logistics solutions. That's why we are building a beautiful, new cargo facility with Dnata." 
This will, hopefully, ensure that the airport is able to grow its share of high-value airfreight, increasing the economic contribution of its cargo operations even if the volume of freight handled actually decreases. 
"We are really focusing on attracting cargo that adds value, so focusing on pharmaceutical goods, high tech – making sure that the added value of our airport to the Netherlands will become bigger with the same amounts or, even, fewer slots."