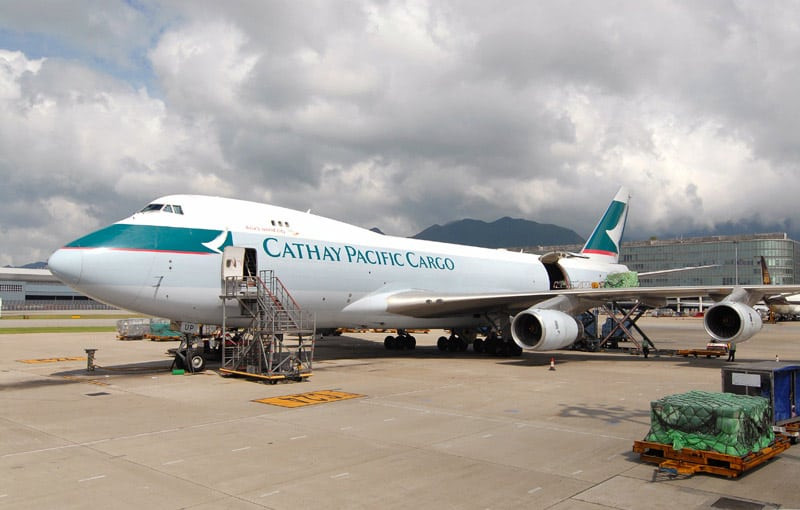 Cathay Pacific says it has seen a "softening" in cargo growth as the year has progressed and there was continuation of this trend in June.
Combined cargo and mail volumes for Cathay Pacific Airways and Dragonair was 141,136 tonnes, which was a slight YOY rise of 0.5 per cent compared to June 2014.
Last month was the second slowest in 2015 and down on May when total tonnage was 147,034 tonnes, a monthly YOY rise of 6.2 per cent. It was also below April, when the airlines handled 144,579 tonnes, a YOY increase of 5.2 per cent.
March was the busiest month so far this year when 157,688 tonnes were handled and YOY growth of 1.5 per cent. In February tonnage rose YOY by 28.8 per cent to 130,467 tonnes. In January the airlines handled 147,275 tonnes, a YOY surge of 12.5 per cent.
In June, the cargo and mail load factor fell YOY by 2.2 percentage points to 62.7 per cent. Capacity, measured in available cargo/mail tonne kilometres, rose YOY by 5.9 per cent to 1.3 million. Cargo and mail revenue tonne kilometres (RTK) flown increased YOY by 2.2 per cent to 835,000.
In the first six months of 2015, tonnage rose YOY by eight per cent to 868,000 tonnes against a YOY capacity increase of 8.9 per cent to 7.9 million and a 10.5 per cent YOY rise in RTK to 5.1 million.
Cathay Pacific general manager for cargo sales and marketing, Mark Sutch, explains: "Last month's tonnage growth was almost flat year on year and fell well short of the increase in capacity in percentage terms. Traffic out of the home market was generally steady, but demand out of mainland China was more sporadic, and was again affected by strong competition."
Sutch says by leveraging its strong network in South East Asia it helped maintain traffic flows on transpacific services and Cathay Pacific did not trim capacity on these lanes. "Conversely, demand from Asia to Europe remained weak and we pared back freighter services on these routes, relying instead on our extensive passenger aircraft belly lift," Sutch adds.