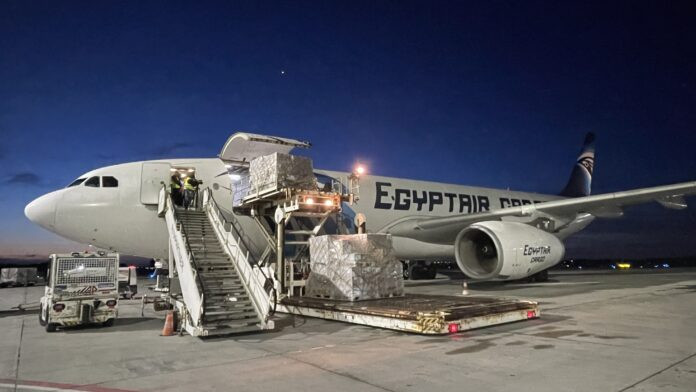 In response to the devastating floods in Libya, a humanitarian flight left Ostend-Bruges Airport on Friday morning bound for Benghazi. The flight is carrying more than 40 tons of essential medical supplies, intended to assist thousands of affected people in the region. The humanitarian aid transport is the result of a seamless collaboration between Egyptair Cargo, Skyline, UNICEF, Ostend-Bruges Airport and handling agent Aviapartner.
READ: More than 100 tonnes of relief supplies left for Turkey via Ostend-Bruges Airport
On board the plane is more than 40 tons of essential medical equipment. The shipment is invaluable to local healthcare facilities and local people, who are facing severe shortages due to the floods. "We are proud that together with all partners we can play a meaningful role in this way," said CEO Eric Dumas.
READ: Ostend-Bruges International Airport goes live with Nallian's Inspection Management app to streamline the import process of perishables
Ostend-Bruges Airport has proven its crucial role in humanitarian missions several times in the past. The airport's efficiency, flexibility and rapid handling procedure ensure that aid can be on the ground quickly when it is needed most. Earlier this year, aid was provided to Turkey, which was hit by earthquakes. Late last year, the airport played a central role in several aid missions to Haiti. And in 2021, the airport facilitated the delivery of oxygen tanks to India, in their fight against the corona crisis.