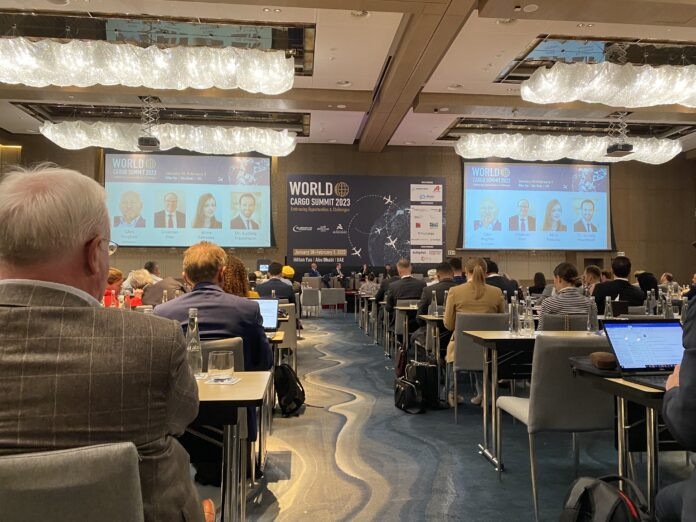 The World Cargo Summit gathered in person for the first time in Abu Dhabi earlier this year after two highly successful virtual events. during the Covid pandemic. In the capital of the United Arab Emirates, a country that is working to become a global cargo hub, a range of topics were at the centre of discussion, including  sustainable transformation in air cargo, the perishables supply chain and the global airfreight outlook.
With over 400 attendees at the conference, hosted by Abu Dhabi Airports and Etihad Cargo, the event provided unrivalled opportunities for businesses and media outlets. Whether networking with airlines, airports, forwarders, project developers and aviation service providers, or weighing the issues at the heart of the industry, the event was filled with lively discussion.
"We covered topics as varied as disruption, global trade, humanitarian flight ops, pharma, tech, digitalisation, sea to air, the future, ground handling, perishables," Tom Crabtree, conference chair, highlighted.
The overarching theme of the event 'Embracing Opportunities and Challenges' gave a host of international speakers a platform to provide insights, information and their perspectives on how people across the airfreight industry can evolve to meet the changing nature of the sector.
Read more: Air logistics make seafood fly
"My intention was to establish a truly global event," Lars-Gunnar Comen, Director of Euroavia International, said. "At these types of global events, we must listen, give the floor and hear views from all parts of the globe," he added, highlighting how the event had almost 60 great speakers from Colombia to New Zealand.
The event also proved a valuable opportunity for host sponsors Abu Dhabi Airports and Etihad Cargo to showcase their recent developments.
Abu Dhabi Airports is at the beginning of an ambitious transformation in our cargo infrastructure and operations to significantly grow its cargo operations and logistics activities. As part of that, Abu Dhabi Airports Free Zone (ADAFZ), a subsidiary of Abu Dhabi Airports, recently revealed that they are approaching successful completion of the Cargo Village and Terminal rehabilitation project.
Etihad Cargo has been working to elevate its cargo operations to become the Air Cargo Partner of Choice. The carrier's initiatives are seeking to elevate its customer experiences and increase its operational efficiency through digitising its operations and personalising its customer experiences. Etihad offers its customers access to a large network of chartered and scheduled services to Europe, North & South America, Asia, Australia, the Middle East, the Indian Subcontinent and Africa using passenger aircrafts and cargo only freighters.