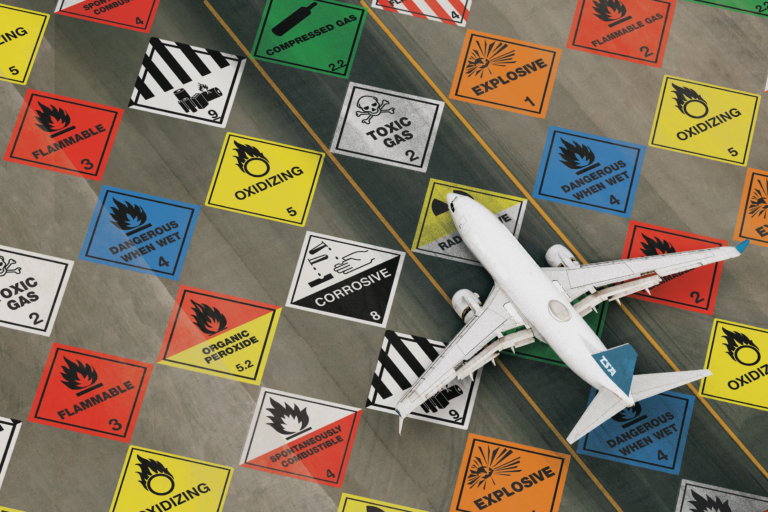 The UK's cargo and transport industry currently faces several significant challenges, including: Labour shortages, ever-changing regulations, adapting to technological solutions meeting specific training needs.
Addressing these challenges often requires a combination of industry collaboration, investment and a proactive approach to changes. Companies that can successfully navigate these challenges are better positioned to thrive in the evolving landscape of the UK's cargo and transport industry.  
The TSA Group comprises a highly motivated and skilled team, with a variety of backgrounds, including cargo, airport supplies, aircraft handling, aircraft catering and logistics.   
As a UK CAA approved training centre, the company offers Aviation Security and Dangerous Goods training, as well as advice and guidance to airports, airlines, cargo handling companies, freight forwarders, transport companies, aviation security providers, in-flight caterers and Dangerous Goods Safety Advisers (DGSA) in the UK and worldwide.   
TSA understands that each company in the logistics sector faces its own set of challenges and requirements. To address these unique needs, TSA has adopted a personalised approach by sending industry experts on-site to conduct thorough assessments. This hands-on engagement allows TSA to gain first-hand insights into the specific challenges and operational intricacies faced by their clients. It enables them to tailor their training programmes precisely to their clients' needs, ensuring that the content and delivery are not just informative but also highly relevant and practical.  
"Meeting the specific training needs of different business functions within the cargo and transport industry, such as air cargo, maritime, and road transport, requires tailored training programmes," Mick Sullivan, Dangerous Goods Safety Advisor & Trainer at TSA, said. "Conducting effective Training Needs Analysis (TNA) to identify and address competency gaps is crucial."  
READ: TSA helps logistics firms meet the dangerous goods demands of clients and regulators
Compliance is crucial
The transportation of dangerous goods is a major concern within the aviation and transport industry. TSA recognises that compliance with regulations is crucial to ensure the safe transport of these goods while minimising environmental impact and public risk. They assist their clients in navigating the complex landscape of regulations, including ICAO/IATA DGR (Air), ADR (Road, both inside and outside the UK), and IMDG (Ocean).  
"One of the biggest obstacles when shipping dangerous goods is ensuring compliance with the regulations. Different countries  have different rules," Sullivan explained. "Obeying these regulations is crucial to ensure goods are carried safely with due care for the environment and not putting the public at risk."  
One area that TSA cites as being an increasingly key part of training is the movement of large quantities of lithium batteries. An increasingly growing element of cargo transportation, it has become critical for companies to ensure they are up to speed with rules and compliance in this realm.  
With that in mind, and to ensure that clients receive the most up-to-date, informed, and effective training and consultancy services, TSA is actively increasing its pool of experts.  
"These experienced professionals bring not only a wealth of knowledge but also practical, real-world insights that can make a substantial difference in enhancing safety, compliance, and operational efficiency," Sullivan stated.  
TSA also works to ensure it has direct knowledge of the unique challenges and operational intricacies faced by customers by physically engaging with clients in their work environments.   
"At TSA, our goal is to empower our clients
with the knowledge and skills they need to excel, and our on-site assessments are just one more way we're enhancing our customer-centric approach to training and consultancy," Sullivan said.    
Covering a diverse landscape  
TSA is proud of its extensive portfolio of clients spanning the diverse landscape of the transport sector.   
"Our journey began in 2014 when we forged partnerships with airports, airlines, and aviation logistics businesses throughout the United Kingdom. Since then, we have consistently delivered exceptional services tailored to the unique needs of our aviation clients," Sullivan said.  
Recognising the importance of covering the entire supply chain, TSA's coverage extends beyond the aviation sector into maritime ports and port authorities as well. This approach not only broadens their scope but also enriches their understanding of the complex challenges and opportunities that clients face.  
"Our unwavering dedication to delivering top-tier services and staying at the forefront of industry trends has made us a trusted partner for organisations in both the aviation and maritime sectors," Sullivan highlighted. "We look forward to continuing to build strong, lasting relationships with our clients and contributing to the success of the transport industry as a whole."  
"Being recognised as the go-to provider for cargo and transport industry training in the UK not only validates TSA's expertise but also opens up numerous opportunities for growth, leadership, and positive impact within the industry," he added. "It positions TSA as a trusted partner for clients and stakeholders, enhancing its competitive standing and long-term sustainability."  
READ: AfA urges shippers to prepare for new security rules
Future focus  
Looking ahead, TSA is fully committed to maintaining its position as a key figure in dangerous goods training and consultancy services.   
"Our strategy for the future revolves around an unwavering dedication to excellence, and one key element of this strategy is expanding our team of seasoned industry professionals," Sullivan said.  
"By continuously investing in our team, we reaffirm our commitment to delivering industry-leading services. As we move forward, clients can expect even more comprehensive, tailored, and cutting-edge solutions that empower them to navigate the complex world of dangerous goods with confidence and precision. At TSA, the future is bright, and we are excited to support your journey to excellence," he added.  
"With TSA as your partner, you can trust that you'll receive training solutions that are not just compliant but also tailored to elevate your business to new heights in the ever-evolving transport and distribution landscape," Sullivan concluded. "Once they leave the training arena we continue to support our clients with help and advice they may need navigating the regulations pertinent to their operation."