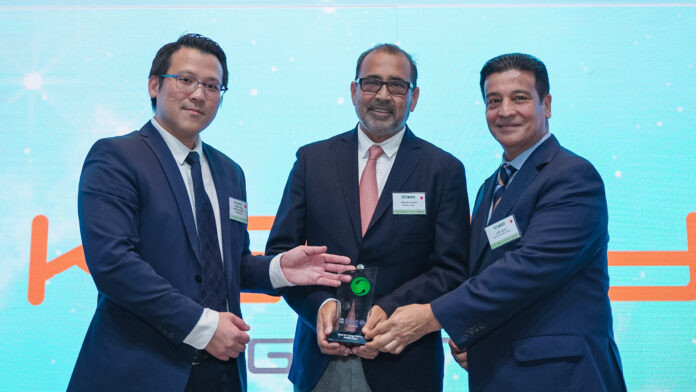 Saudia Cargo, a leading air cargo carrier, has achieved the prestigious title of Best Air Cargo Carrier in the Middle East at the acclaimed Asian Freight, Logistics, and Supply Chain (AFLAS) Awards hosted by Asia Cargo News. This remarkable achievement stands as a testament to the company's pursuit of excellence and its undisputed leadership in the air cargo domain.
Saudia Cargo's triumphant win at the AFLAS Awards celebrates its remarkable achievements across a range of significant areas. In fact, Saudia Cargo has demonstrated an unwavering commitment to expansion, particularly in the dynamic Asian market. With a keen focus on intensifying flight frequencies to the Far East, optimising routes, and strategically positioning itself to handle a diverse array of products.
READ: Saudia Cargo appoints Managing Director
The company's passion for customer service and product innovation shines through its strategic partnerships for transporting cutting-edge temperature-controlled containers and sustainable cargo solutions. Leveraging advanced technology, and an unwavering commitment to safety and security underscore the company's dedication to delivering top-notch service at competitive costs. Additionally, the company's rapid embrace of digitisation and transformational business approaches ensures the uninterrupted flow of supply chain operations.
Teddy Zebitz, CEO of Saudia Cargo, expressed profound gratitude, remarking, "This recognition reaffirms our unshakable commitment to delivering top-tier services, a culture of innovation, seamless customer relationship management, reliability, and our position as a trailblazer in the air cargo industry. It's a testament to the hard work and commitment of our team. I would like to take this opportunity to thank all valued partners and clients for their steadfast support throughout this extraordinary journey."
READ: Connecting the world with a human-first approach
Vikram Vohra, Saudia Cargo's Regional Director Asia Pacific, added, "Our success is not only a recognition of our past achievements but also a reflection of our commitment to shaping the future of air cargo through innovation, sustainability, and outstanding service. We are acquiring new freighter aircraft in light of a rapid growth in e-commerce resulting from the agreement reached between Saudia Cargo and Cainiao. We look forward to further widening our route network for e-commerce across Asia and Europe."
Capitalising on Saudi Arabia's strategic geographical location that bridges the East and West, Saudia Cargo has solidified its position as a market leader. Further, it's alliance with SkyTeam Cargo granting access to an extensive network of 150 freighter destinations in addition to nearly 800 passenger destinations worldwide which significantly enhances capacity, expands destination options, and improves connectivity, seamlessly aligning with the goals of Saudi Vision 2030 to diversify the nation's economy.